Not much happened on the dome this week, between Mike missing a day or two with his oral surgery (he's fine, less one impacted wisdom tooth, but he was pretty groggy all day Tuesday) and a couple small thunderstorms that rolled through & soaked the ground again, precluding any outdoor work.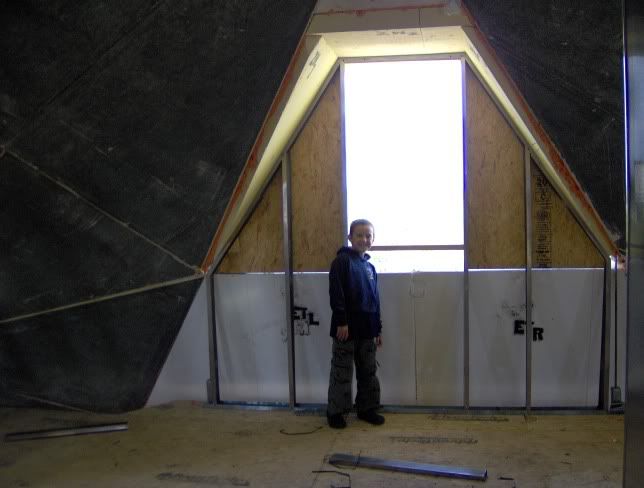 The second-floor dormers have been framed to accept the windows, which should arrive next week. We ended up ordering a traditional double-hung style instead of casements, which a) was quite a bit less expensive and b) worked a lot better in the entry area. Hunter is actually in the guest room here, which is over the kitchen looking to the west.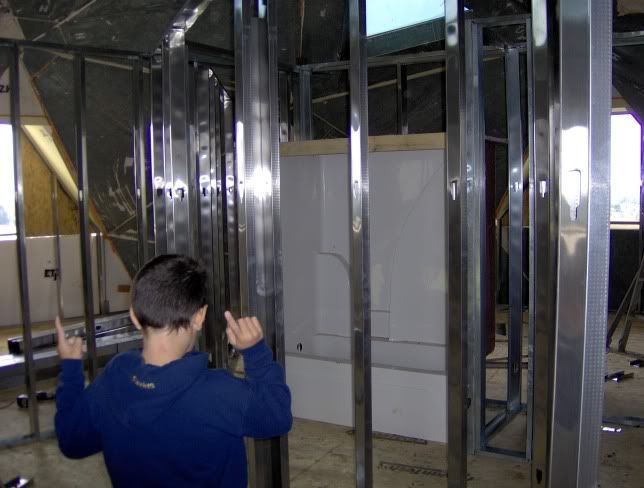 The gigantic bath/shower stall has been moved upstairs & is framed into place in the 2nd floor bathroom. We got an email from some relatives (Hi Bud & Pat!) who are reading the blog & were under the impression that there was only going to be one bathroom in the whole place. Not true & I apologize for giving the wrong impression. The plan calls for 3 1/2 baths -- powder & master on the 1st floor, a full bath on the 2nd floor, and a toilet & shower in the basement. I oughta scan the floor plan & post it here, I just realized I still haven't done that.